Use the form at the bottom of the page to contact the parish for more information about joining one of the groups described below.
Organizations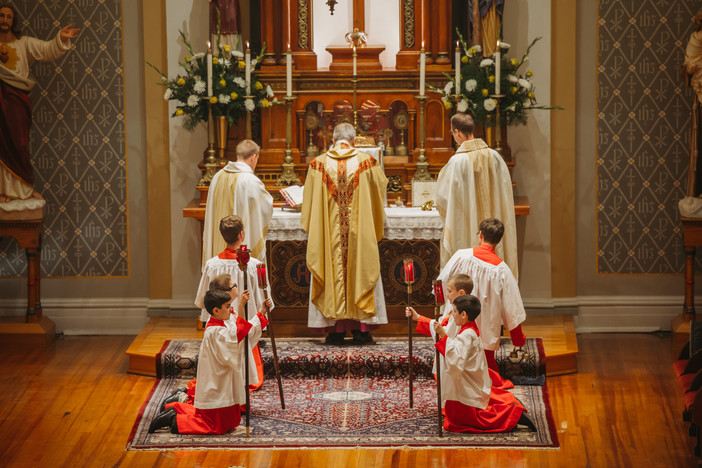 SAINT JAMES ALTAR SOCIETY PURPOSE:
To promote worship.
To care for the Altar (bread, wine, candles, linens), to care for and clean the church.
To help the priest in any way possible under his direction.
To assist with Catholic education, at the direction of the Altar Society members.
To reach out in the hour of need to someone in this troubled world in words and deeds.
To attend rosaries for the deceased members.
To provide funeral dinners when requested.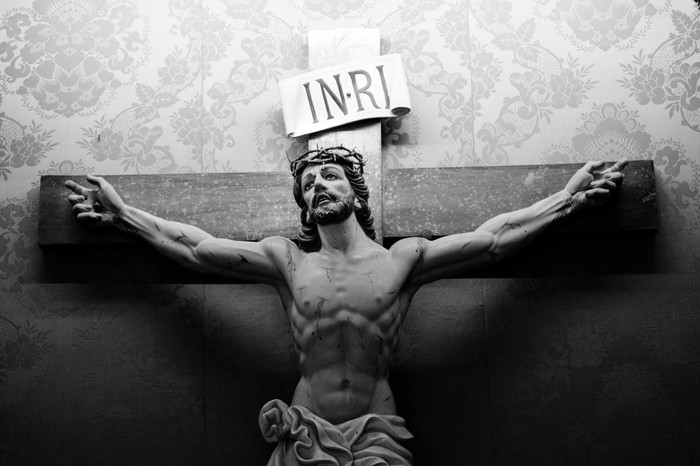 HOLY NAME SOCIETY: A PERSONAL CALL TO HOLINESS
The Holy Name Society is committed to helping its members grow in holiness through devotion to the Most Holy Name of Jesus. Members of this fraternity are called to be leaders, to cleanse themselves in the sacrament of penance, strengthen themselves with the Most Holy Eucharist, nourish their souls on Sacred Scripture, increase their desire for divine love through prayer, and lead their families, friends, and coworkers to Christ Jesus by their acts of charity and piety.
If you are a Catholic over the age of 18, please consider joining the Holy Name Society – join your prayers with others so that the Most Holy Name of Jesus can be venerated – our prayers will be heard!
MEETINGS:  Second Sunday of each month after 8 am Mass
MEMBERSHIP:  Membership in the Holy Name Society is open to all Catholics, lay, clergy, and religious over the age of 18. They must be firm believers in all that the Catholic Church believes and teaches and put these teachings into practice in their daily lives. These beliefs of the Catholic faith are expressed in the Credo of the People of God, Apostolic Letter in the form of Motu Proprio, Solemni Hac Liturgia (Credo Of The People Of God) Of The Supreme Pontiff Paul VI, June 30, 1968
WHAT DO WE DO:  We strive to live Christ and His teachings. One important concept of this teaching is charity. At Saint James, we live out this charity in our parish. Below is a list of a few items we show charity to within the parish:
Fish Fry during Lent
Taking care of the parish structure
Processions at Mass
Adoration of the Blessed Sacrament
Pray
Protect the Holy Name of Jesus
Generous donations for parish needs
National Association of the Holy Name Society
HOLY NAME PLEDGE: 
Blessed be God. Blessed be His Holy Name. Blessed be Jesus Christ true God and true Man. Blessed be the name of Jesus. I believe O Jesus. That Thou are the Christ. The Son of the Living God. I proclaim my love. For the Vicar of Christ on Earth. I believe all that as sacred truths Which the Holy Catholic Church Believes and teaches. I promise to give good example By the regular practice Of my faith. In honor of His Divine Name, I pledge myself against perjury Blasphemy, profanity, and obscene speech. I pledge my loyalty To the flag of my country. And to the God-given principles Of freedom, justice, and happiness. For which it stands. I pledge my support To all lawful authority I dedicate myself To the honor of the Sacred Name of Jesus And beg that He will keep the faithful To these pledges Until Death
AMEN
MEETINGS: First Monday of every month at 7 pm, Casper Erk Room
WHY JOIN THE KNIGHTS?
Imagine being part of an organization that fills your heart and your mind with the joy of giving to others and the feeling that comes with making a difference. Knights are Catholic men, 18 years of age and older, who are committed to making their community a better place, while supporting their Church. Being a Knight is more than camaraderie; it is being involved with your community; it is supporting your local Catholic Church, while enhancing your own faith; it is about protecting and enhancing your family life.
The Benefits of becoming a Knight are too many to be described here. Please see our Organization's home page: Click Here
SPONSORED ACTIVITIES AT ST. JAMES PARISH
Seminarian Benefit - raises money to help our future priests continue their education and discernment.
Blood Drive - we collect blood through the Saint Joseph Community Blood Center to help local hospitals provide for individuals.
School Auction - we work in different capacities at the school carnival to help ensure the fundraiser is a success for St. James School.
Fishing Tournament- a fun day for families to enjoy.
Parish Picnic - we sponsor a parish picnic to help socialization within our parish. Another fun day for families and a chance for new members and old to meet.
Tootsie Roll Drive - we sell tootsie rolls at church and across town to help benefit the Knights and others in need.
Golf Tournaments - whether you can golf or not the tournament is a must event if you are someone who likes to have fun.
Biscuits and Gravy - Currently offered after the 8:00 Mass on Sundays.
CURRENT OFFICERS
Grand Knight - Rich Girard
Deputy Grand Knight - Mike Chappell
Financial Secretary - Mike Lynch
Chancellor - Tim Cox
Recorder - David Ball
Treasurer - John Murawski
Advocate - Charlie Przybylski
Warden - Larry Wion
Inside Guard - Denny Conz
Outside Guard - Larry DeWar
One Year Trustee - Roman Janorschke
Two Year Trustee - Don Odette
Three Year Trustee - John Purdy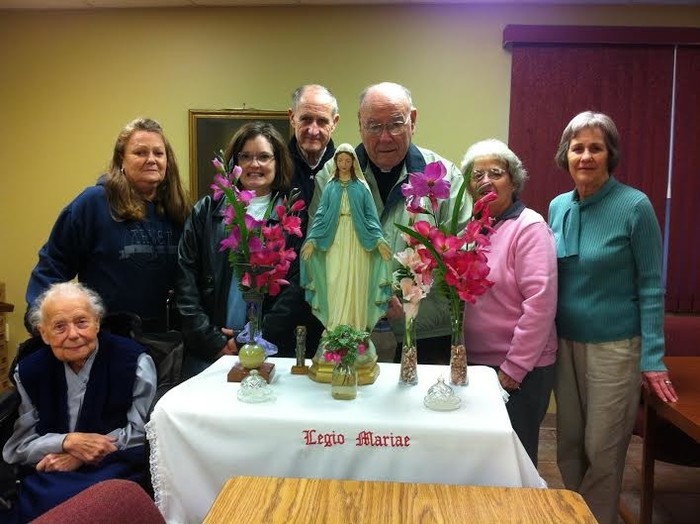 The Legion of Mary (Legio Mariae) is an association of Catholic laity who serve the Church on a voluntary basis. It was founded in Dublin, Ireland, as a Roman Catholic Marian Movement by layman Frank Duff. Today between active and auxiliary members there are in excess of 10 million members worldwide making it the largest apostolic organization of lay people in the Catholic Church.
WEEKLY MEETINGS: Mondays at 8:30 pm, Casper Erk Room
Active members at St. James participate in:
visiting homes to encourage the rosary
assisting the pastor
one hour meetings each Monday 8:30 am
two hours of assigned work.
If you are interested in membership please contact the parish office: 816-238-0853
HISTORY:  The Legion of Mary was founded by Frank Duff on September 7, 1921, in Dublin. His idea was to help Catholic laypeople fulfill their baptismal promises and be able to live their dedication to the Church in an organized structure, supported by fraternity and prayer.
The Legion was first only open to women, the first men apart from Duff himself joined it in 1929. The legionaries first started out by visiting hospitals, but they were soon active among the most destitute, notably among Dublin prostitutes. Frank Duff subsequently laid down the system of the Legion in the Handbook of the Legion of Mary in 1928.
The Legion of Mary soon spread from Ireland to other countries and continents. At first, the Legion often met with mistrust due to its dedication to lay apostolate which was unusual for the time. Only after Pope Pius XI expressed praise for the Legion in 1931 did distrust fade.
Most prominent for spreading the Legion was the Irish legionary Edel Mary Quinn for her activities in Africa during the 1930s and 1940s. Her dedication to the mission of the Legion even in the face of her ill health due to tuberculosis brought her great admiration in and outside of the Legion. A beatification process is currently underway for her and for Frank Duff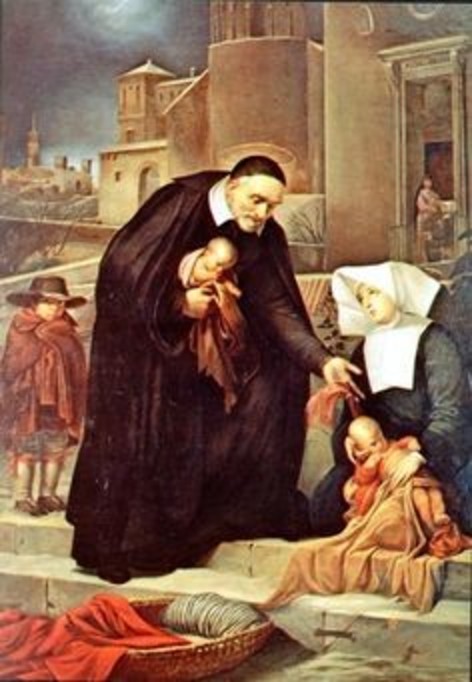 St. Vincent De Paul Society is seeking new members/volunteers (men and women) in order that we may re-open our neighborhood food pantry in Fall 2021.  
Please contact Jack Hochard at 816-262-1667 or Tim Gach at 816-205-1959.
Servicing the South Side of Saint Joseph, Saint James District
The Society of St. Vincent de Paul offers tangible assistance to those in need on a person-to-person basis. It is this personalized involvement that makes the work of the Society unique. This aid may take the form of intervention, consultation, or often through direct dollar or in-kind service. An essential precept of the Society's work is to provide help while conscientiously maintaining the confidentiality and dignity of those who are served.
We at St. James Parish participate by serving individuals in our district who have a need for food assistance. Help is dependent upon the size of the family. Thanksgiving and Christmas baskets are also available.
"Extend mercy towards others, so that there can be no one in need whom you meet without helping. For what hope is there for us if God should withdraw His mercy from us?"

St. Vincent de Paul
We are available to serve Tuesdays and Thursdays by appointment.
PLEASE CONTACT THE PARISH OFFICE, (816) 238-0853 TO INQUIRE ABOUT ASSISTANCE.
Liturgical Ministry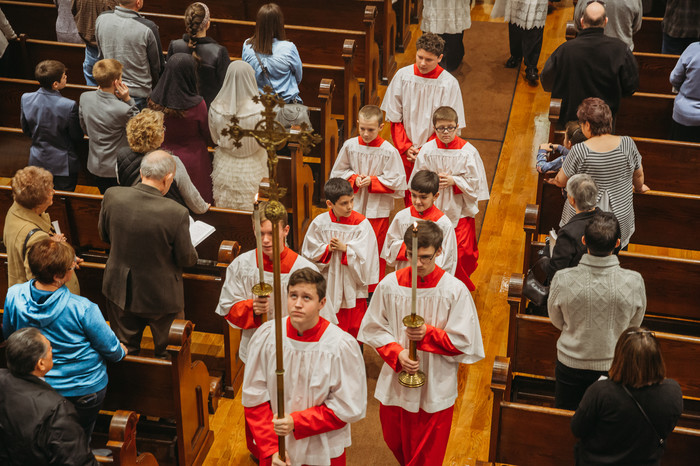 They serve Our Lord at the altar and assist our priests at Masses, funerals, weddings, and various special liturgical events throughout the year. 
Boys may begin their initial training in the spring of their 4th grade school year.  The training schedule will be coordinated to allow all interested boys the opportunity to serve whether they attend St. James Catholic School or another school.  
If interested in serving at the altar, please fill out the contact form below.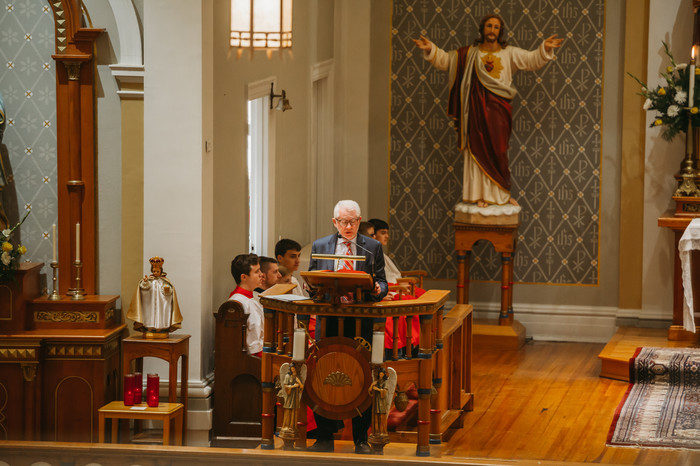 The reading of the Sacred Scriptures in the presence of the assembly holds a special place in the Mass. The words of Sacred Scripture, because they are inspired by the Holy Spirit, make God present in a unique way to the faithful. 
God who spoke the universe into being, speaks to us through these words, and we who offer to God a sacrifice from what we have received, offer His own words back to Him as part of the Sacrifice of the Mass.
The proclamation of the Word of God, therefore, is a ministry that requires that a person be in good standing, duly trained, and otherwise qualified to perform this action within the Mass. 
If interested in serving at the altar, please fill out the contact form below.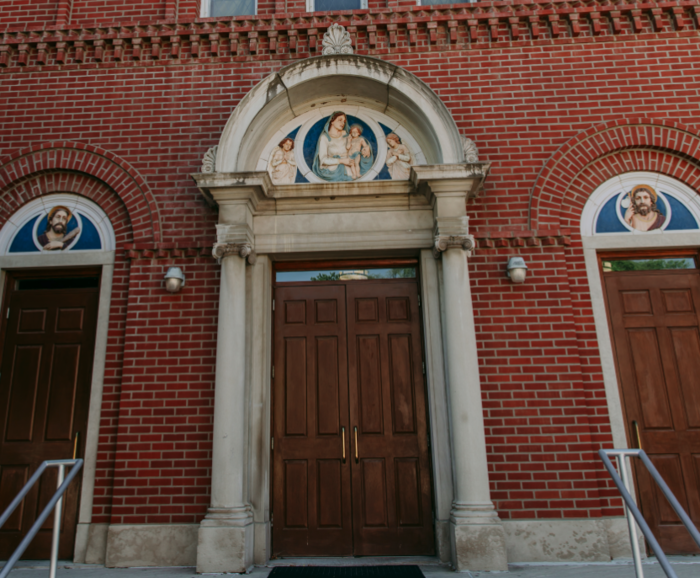 The role of Ushers is much akin to the role of servers at a restaurant, namely to place oneself at the service of another so that they may fully engage in communication with the person they are dining with. 
Ushers' duties are of greater significance because they are serving others at the earthly participation Heavenly Banquet so that the faithful can fully engage in prayer with Jesus Christ. Ushers have taken the lower place, like Martha, so that others can be more fully attentive to the power and majesty of the Sacrifice of the Mass. 
Ushers also play a special role in greeting strangers and providing hospitality to guests, parents, and the elderly. They serve an indispensable function to the community. Therefore, they too must be of good standing within the Church, duly trained, and otherwise qualified to serve in this way.
If interested in serving at the altar, please fill out the contact form below.
Volunteer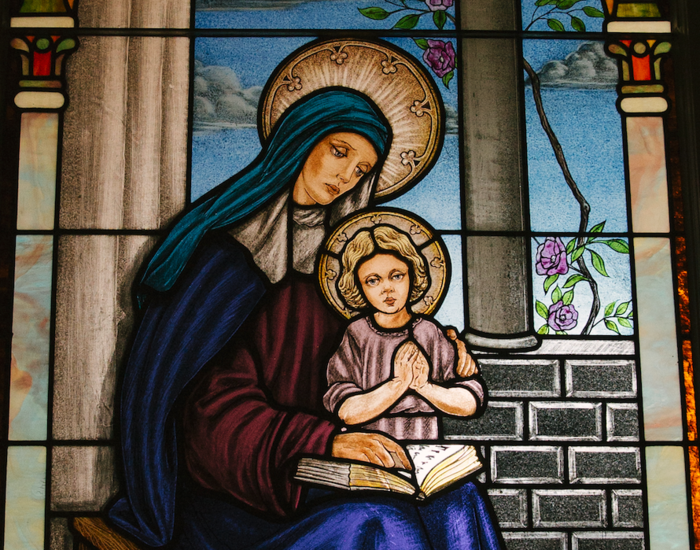 Parents are the first catechists of their children. To serve the parish as a catechist requires a person to recognize that they are at the service of the parents to provide support in teaching their children in the knowledge and practice of the faith, helping the children to develop a deep and intimate relationship with Christ.
If you think you are called to serve in this way, please fill out the contact form below.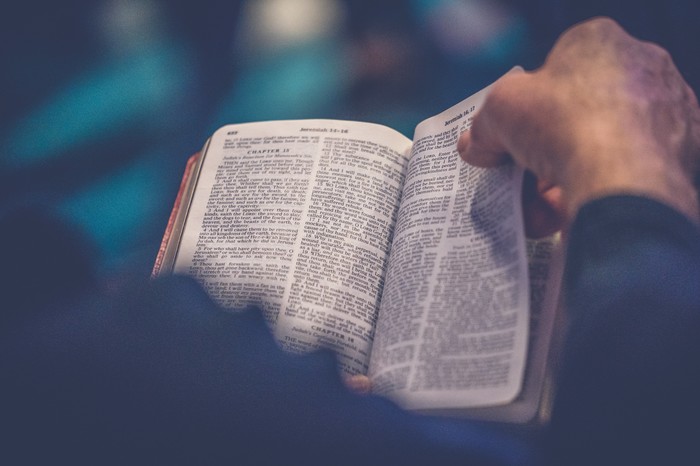 Just like the relationships you have with friends, family, or spouse, your knowledge of and relationship with God can always grow. With the resources available these days, you don't need to be an expert theologian. You only need the heart of a servant, a willingness to listen, and the humility to say, "I don't know, I'll look into that with you."
If you think you are called to serve in this way, please fill out the contact form below.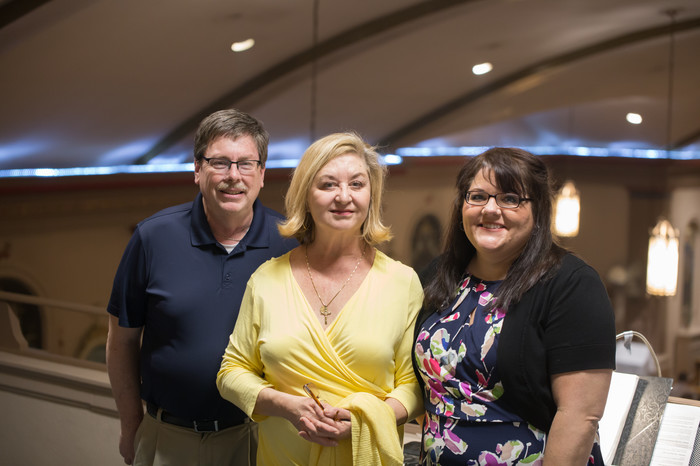 Many adults come to a point of conversion later in life, when they find that their way of life is not leading to ultimate happiness. They come with questions, past experiences, and sincere humility.
If you have a gift for teaching the doctrine and practice of the faith with sensitivity, ardor, and integrity, we'd like to hear from you. These adults often need teachers and/or sponsors to accompany them in this time of conversion and growth.
If you think you are called to serve in this way, please fill out the contact form below.